Message to Our Valued Customers
To Our Valued Customers,
The safety and well-being of our customers and employees are of utmost importance for all of us at Mariner Pizza. We are committed to serving our customers quality food that is prepared in a safe and clean environment. Given the impact the coronavirus (COVID-19) continues to have on our communities, we feel it is important to share the steps we are taking to ensure the safety and health of our customers and employees.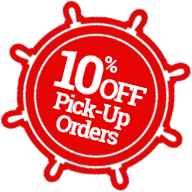 Our Menu
Our pizza dough is made fresh daily and we make our own special homemade pizza sauce!
Now offering Gluten Free Crust
View PDF Menu